by Mary Collette Rogers
Breading is a good way to begin getting to know eggplant, since the breadcrumb coating adds familiar flavor and a nice texture. Those who are experienced eggplant eaters will also like the possibilities presented by a nice breaded eggplant fillet. Layer, roll or top with different sauces, cheeses and nuts for some fast but interesting meals. In this recipe, the eggplant is topped with a fresh tomato mixture that is just barely cooked, so it remains very fresh tasting. In terms of timing, it can be helpful to prepare the topping ingredients first, but wait to cook them until the breaded eggplant is baking so they don't get overcooked.
Breaded Eggplant with Herbed Tomato Topping
Preheat oven to 400 (F).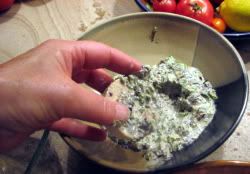 Slathering the eggplant into the herb mayonnaise wash
Step 1: Prepare the "Wash" In a wide cereal bowl, whisk together with a fork:
1 Tbsp. mayonnaise
1 Tbsp. olive oil
2 Tbsp. milk (cow, goat or soy)
Sea salt and freshly ground pepper
To this mixture, stir in:
1/2 to 1 cup freshly chopped basil (or a combination of basil, parsley, thyme and oregano, with basil being the predominant herb)
Step 2: Prepare the Breadcrumbs On a dinner plate, spread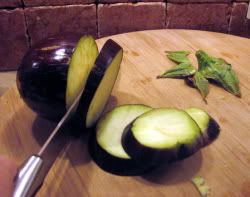 Slicing the eggplant 1/2″ thick
Step 3: Prepare the Eggplant Slice:
2 small eggplant or 1 medium eggplant into 1/2″ rounds
Step 4: Bread the Eggplant Lightly oil a cookie sheet with olive oil. Using your hands, slather each eggplant slice with the mayonnaise wash, then lay each side in crumbs, lightly patting crumbs so they stick into the wash. Lay on oiled cookie sheet.
Step 5: Bake Place cookie sheet in oven and bake eggplant about 5-10 minutes, until slices are lightly browned and tender when stuck with a fork. Remove slices to a serving platter. While eggplant bakes, prepare Tomato Topping.

Step 6 Prepare Quick-Cook Tomato Topping
1 Tbsp. olive oil
1 lrg. onion (preferably sweet) diced to ¼"
4-6 med. cloves garlic, minced
1/8 tsp. red pepper flakes (more or less, to taste)
Bake eggplant until lightly browned and tender when stuck with a fork
Heat oil in a large saute pan over medium heat. Add onions and saute until lightly browned. Add garlic and pepper flakes and saute another couple minutes, then stir in the following:
2 cups vine-ripe, farmers market tomatoes cut into ½ -1" dice (or 1 pint cherry tomatoes, halved)
1 tsp. sugar
Sea salt and freshly ground pepper, to taste
Bring to a simmer and cook just 5 minutes until tomatoes just begin to soften. Remove from heat promptly and stir in:
½ cup fresh, chopped basil (or the same mixture of herbs used in mayonnaise wash)
Step 7: Assemble and Serve Top each baked breaded eggplant slice with a spoonful of tomato topping and serve immediately with:
Freshly grated Parmesan or crumbled feta cheese (optional garnish)
Mary Collette Rogers runs EveryDay Good Eating, a non-profit dedicated to sharing the lost art of everyday meal making with local, seasonal and healthful foods.  Drawing on over 20 years as a healthy eating coach, instructor, speaker and author, she offers an integrated, holistic approach to meal making.  Following her Whole Kitchen® approach, participants learn to make good eating an everyday lifestyle that is easeful, natural and fun.  Her classes consistently receive top ratings from participants.